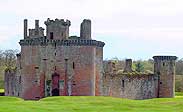 Castles to Visit in the Dumfries Area.
When you travel to Dumfries and the beautiful surrounding areas why not take some time out to visit some of the fantastic castles we have in the area.
We are fortunate to have various castles in all shapes and sizes and in many different states of repair from complete ruins such as "Lochmaben Castle" where it is claimed the revered "King Robert the Bruce" was born in 1247 to the fabulous Comlongon Castle near Gretna which is a beautifully restored 15th century medieval castle that is now a luxurious wedding venue.
The common thread that you find with all these castles in the Dumfries area is that over the centuries many of them have changed hands several times during warring "Auld Enemies" as they regularly locked horns in various battles.
Not to be missed is Caerlaverock Castle – The only triangular castle in Great Britain. Building of the castle began in 1277 and was practically complete by 1300 when Edward 1 ("The Hammer of the Scots") arrived with his knights and 3000 men and took the castle. It's strategic position looking over the Solway Firth and surrounded by sea and deep marshes ensured it was always a most sought after stronghold by the warring nations. The castle is definitely worth a visit as many of the features still remain today including the magnificent Nithsdale Lodgings with fantastic ornamental stonework which were added to the castle in the mid 1600s. For an added bonus look out for the South wall on the Gatehouse where Dumfries's most famous son "Robert Burns" carved his initials and the date of his visit in 1776.
Drumlanrig Castle is now the magnificent home of the Duke and Duchess of Buccleuch  and Queensberry. This fine example of late 17th century renaissance architecture in Scotland is open to the public and houses some of the finest artwork in the world including Rembrandts "The Old Women Reading". To ensure your day is full you can also look around the Gift Shop, the Cycle Museum, the Gardens and the fantastic Country Estate.
If you have more time to spend in the area take the opportunity to visit Threave Castle, Auchen Castle and if you get the chance pay a visit to sweetheart Abbey to see the substantial remains of this historical building where Lady Devorgilla founded the Abbey in 1273 in loving memory of her husband John Balliol who died in 1268.