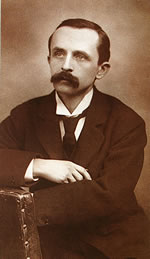 James Matthew Barrie was born on May 9th 1860 in Kirriemuir Scotland. He began writing many stories at an early age. He wrote numerous highly acclaimed novels and plays, however his most famous work Peter Pan (1904) will ensure his place in history.
His story of a boy who refused to grow up, forever avoiding the world of adulthood is famous across the globe and is synonymous with stars such as Micheal Jackson and Sir Cliff Richards.
James lived at 6 Victoriantoria Terrace, Dumfries (next door to us) with his older brother Alexander whilst he attended Dumfries Academy from the age of 13 until he was 18. There is an inscription cut into the sandstone façade of the house
On his first day at the academy he befriended the son of a local solicitor whose family lived at Moat Brae House near the school. One of the sons Stuart Gordon shared James's vivid imagination for pirates and fairies and together with their imaginary pirate crew the large garden at the rear of the house shaped and inspired the Peter Pan story.
Moat Brae and the gardens latterly became a nursing home until it ceased in 1997 when it was sold to a private investor. From this date until April 2008 when it was sold to the Loreburn Housing Association little attention was paid to the fabric and condition of the building and unfortunately it has fallen in to a very sad state of repair, which culminated in 2009 reports that the house may be demolished.