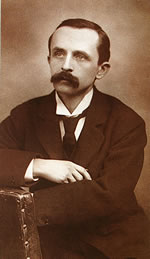 Since moving back to Dumfries and purchasing Glenaldor House Bed and Breakfast,  I was surprised to discover that the famous author of Peter Pan J.M. Barrie lived next door at number 6 during his years at Dumfries Academy. I was even further intrigued to discover that it was during his time here that the Peter Pan stories were vividly played out in J M Barrie's young imagination whilst playing in a location that is now under threat of disappearing.
James Matthew Barrie was born on May 9th 1860 in Kirriemuir Scotland. He began writing many stories at an early age which he called "thrums" and throughout his life until he died on 19th May 1937 he wrote numerous highly acclaimed novels and plays, however his most famous work Peter Pan (1904) will ensure his place in history.
His story of a boy who refused to grow up, forever avoiding the world of adulthood is famous across the globe and is synonymous with stars such as Micheal Jackson and Sir Cliff Richards.
James lived at 6 Victoriantoria Terrace, Dumfries with his older brother Alexander whilst he attended Dumfries Academy from the age of 13 until he was 18. There is an inscription cut into the sandstone façade of the house which reads :
Sir James Matthew Barrie 1860 – 1937. J M Barrie lived in this house, the home of his brother while a scholar at Dumfries Academy from 1873 to 1878. He regarded his stay in Dumfries as amongst his happiest days. His works include: Dear Brutus, The Little Minister, Quality Street, Peter Pan, The Admirable Crichton, Mary Rose. In 1924 Sir James was made a Freeman of Dumfries the town where Peter Pan was born
click image to enlarge
On his first day at the academy he befriended the son of a local solicitor whose family lived at Moat Brae House near the school. One of the sons Stuart Gordon shared James's vivid imagination for pirates and fairies and together with their imaginary pirate crew the large garden at the rear of the house shaped and inspired the Peter Pan story.
Moat Brae and the gardens latterly became a nursing home until it ceased in 1997 when it was sold to a private investor. From this date until April 2008 when it was sold to the Loreburn Housing Association little attention was paid to the fabric and condition of the building and unfortunately it has fallen in to a very sad state of repair, which culminated in 2009 reports that the house may be demolished.
Thankfully the Peter Pan action group are now in the process of establishing the Peter Pan Moat Brae Trust to attempt to save the building and gardens in order that they can remain as a lasting reminder of the authors time in Dumfries and especially to preserve the place where the wonderful story of Peter Pan was born.
With 2010 being the 150th anniversary of J M Barrie's birth and March 2010 hosting "Peter Pan Week" lets hope that this historical Georgian House and Gardens can survive and be a significant landmark in the Peter Pan story.
David Irving