Dumfries and Galloway has always been an exceptional place to visit at all times of the year, the variety of attractions open and available to visitors ensures their time will be well spent and enjoyable. From fantastic castles, stunning scenery and wildlife, beautiful gardens through to exceptional museums and Arts and Crafts centres.
As an idea for my next blog I thought I would try to determine the top 5 "must see" visitor attractions in and around Dumfries and found it to be quite a difficult task. No matter who I spoke to whether it was a local person or regular visitors everyone has their personal favourites and if nothing else it shows how wide and varied the options available to tourists are.
Here goes for my picks.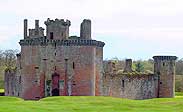 1) Castles – Dumfries has a wealth of castles within the region and due to the variety from complete ruins to magnificent wedding venues just snatches the top spot. The unique Caerlaverlock castle with its triangular shape and stunning setting is a definite must along with the former Douglas family stronghold Drumlanrig castle. Now home for the Duke and Duchess of Buccleuch, set on the 90,000 acre Queensberry estate there is so much to do it is easy to spend the whole day looking around. Comlongon Castle is one of the finest examples of a 15th Century Border Stronghold and has now become one of the finest Wedding and banqueting venues in the country.
2) Dumfries Museum and Camera Obscura – Southwest Scotland's largest museum is housed in a converted 18th century windmill. The museum is crammed with interesting artefacts and the staff are extremely helpful and of course it is free. As an added bonus the top floor of the museum houses a camera obscura. Installed in 1836 the amazing piece of machinery is still in perfect working order and gives you a panoramic view across Dumfries and the surrounding countryside.
3) Robbie Burns – The National Bard spent much of his lifetime in Dumfries, firstly as a farmer at Ellisland farm near Dumfries and then as an excise man in the town. Many places in the town have reminders of his time here until his death in 1796. Follow my previous blog on glenaldorhouse.co.uk "A day in the Life of Robert Burns" and visit some of the places in the town that serve as a great legacy to his time here such as the Robert Burns Museum, the Globe Inn and St Michaels Kirkyard where he is laid to rest.
4) Mabie Forest – The big plus for Mabie is that is certainly has something for everyone and the whole family can enjoy a day out. From many walks for all abilities which take in natural habitats for wildlife with picnic areas and barbecues along the way where you can take is some breathtaking scenery to the adventure playground which offers exciting and safe fun for kids of all ages. Mabie also offers many cycle trails and bike hire is available, it also boasts one of the renowned 7 Stanes cycle trails for the enthusiastic mountain bikers (for further info see www.7stanes.gov.uk ).
5) Solway Coast – Sneaking in at number 5 is the Solway Coast, with over 200 miles of coastline in the region you have the opportunity to see some fantastic landscapes as you drive along the coastline and can stop off for a leisurely stroll along the sandy beaches. Huge numbers of migrant wading birds and wildfowl arrive from Autumn to late spring and can be seen en-masse at various places including Caerlaverock, Mersehead and Wigtown Bay.
Following close on the top 5 heels must be places like the Moffat Hills with natural features such as "The Devils Beeftub" and my personal favourite – the beautifully named waterfall "The Grey Mares Tail" and also there must be something to be said for standing on the old Devorgilla Bridge and looking down the River Nith to the metal Suspension bridge with the Whitesands on your left and the Burn's Centre and park on the right. Not to mention of course the fantastic golf courses and sporting activities available in the region.
Why not visit us and find your own favourite – you will certainly find plenty to keep all the family entertained and occupied.
David Irving
Glenaldor House.